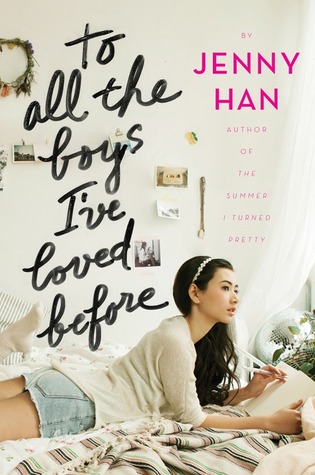 Author: Jenny Han
Published: Published April 15th 2014 by Simon & Schuster Books for Young Readers
Number of pages: Kindle Edition, 369 pages
rating: 🌟🌟🌟🌟
To All the Boys I've Loved Before is the story of Lara Jean, who has never openly admitted her crushes, but instead wrote each boy a letter about how she felt, sealed it, and hid it in a box under her bed. But one day Lara Jean discovers that somehow her secret box of letters has been mailed, causing all her crushes from her past to confront her about the letters: her first kiss, the boy from summer camp, even her sister's ex-boyfriend, Josh. As she learns to deal with her past loves face to face, Lara Jean discovers that something good may come out of these letters after all.
The main character is Lara Jean a 16 year old girl who is going to have to learn to grow up and take control now that her older sister Margot has left for college. She is a very closed up person and likes  things simple, like hanging out with her family on Friday nights instead of going to a party. That doesn't mean Lara Jean isn't your typical teenage girl though. She has crushes. Except she claims it's not just a crush it's "love" because she is dreamy eyed Lara Jean. She never takes a chance with love, she writes goodbye letters so she can fall out of love and continue living in that bubble she's created.
The main love(s)  of her life are Josh Sanderson ( her sisters boyfriend) and Peter kavinsky. Although it is against everything the girl code stands for I don't blame Lara Jean for being in love with her sisters boyfriend.You can't choose how you feel you just have to choose how you'll behave. I think Lara Jean was really mature about the whole thing she chose sister love over the guy.  Sisters before misters. Plus Josh was such a tease ! She held her head high  wrote her goodbye letter and that was it.
Except it wasn't. Somehow her letters got sent out. And that's where the story really begins.
The book is well written. It starts of  a bit slow and  it does get a bit tiring close to the end but when I finished the book  I was like I NEED MORE.
The plot isn't anything special but the writing made up for it. I couldn't put the book down ! Sure at some point Lara Jean was more annoying than quirky but who cares.. not me.Of course it is no William Shakespeare but I think the book had a good tone. The author wasn't spouting out all these life changing quotes from sixteen year olds but we still feel impacted.
My favourite part about this book is the characters. Each of them bring something to the table. Even 9 year old Kitty gives you a lot to think about – Plaid and plaid are a no no – and laugh about. There is a really strong sense of friendship and family in the book. When they all laughed and smiled you couldn't help but laugh along with them.
Also the character growth is probably the main theme of the book. Lara Jean has to adapt AGAIN ( the first time when her mom died ) when her sister leaves for college and she has all this new responsibility. Everyone has to grow up and  Kitty is even packing her own lunch( that's a big deal for her ) by the end of the book.
I  love that the characters weren't perfect. The sisters got into fights but they made up cause that's what sisters do. Lara Jean tended to neglect Josh but who can blame her ? Her life was a mess ! Let's not forget the whole crush on her sisters boyfriend thing … yeah she definitely wasn't perfect!
There wasn't many cliches in the book actually. Some characters were similar to certain cliches but most of them actually pretty unique. I know strangeee.
Which brings me onto the Romance . The relationships definitely aren't perfect either. You can see them warm up to each other as the book continues. I do hate that at the end of the book  They are  at the point of saying 'I love you'  which is crazy! Sometimes authors forget that they are writing about 16 year olds. The 16 year old teens I've come across change their relationships as much as they change their clothes. Then again it is dreamy eyed Lara jean we are talking about of course she sums it all up to love because she is naive like that.
This book is just something to read. To get out your favourite snack – anything with peanut butter 😉 – wear something comfy – Bring out those bunny slippers – and read. I really enjoyed this book it was just cute … too cute.
Deuces,
B