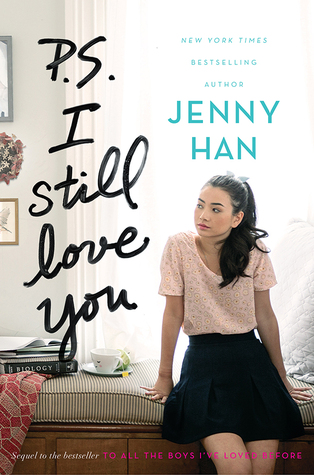 Author: Jenny Han
Published: Published April 15th 2014 by Simon & Schuster Books for Young Readers
Number of pages: Kindle Edition, 369 pages
rating: 🌟🌟
(2.9 stars)
My review if the first book is referenced to a lot XD
Lara Jean didn't expect to really fall for Peter.
She and Peter were just pretending. Except suddenly they weren't. Now Lara Jean is more confused than ever.
When another boy from her past returns to her life, Lara Jean's feelings for him return too. Can a girl be in love with two boys at once?

In this charming and heartfelt sequel to the New York Timesbestseller To All the Boys I've Loved Before, we see first love through the eyes of the unforgettable Lara Jean. Love is never easy, but maybe that's part of what makes it so amazing
I was so ready for this book.. I was pumped. More Lara Jean more Peter Kavinsky AND a whole new plot!! It was like a dream.
This is the second book in the to all the boys I've loved before series. Taking that in account if I was going to compare it I'd say I didn't like this one AS much. It felt slightly pointless it was literally a drag at some point.
This book starts immediately where you left off with  the first book; The letter to Peter. It flows after that right into the Lara Jean drama and all that goodness. I couldn't put it down when it first started I was so into it. Except it was all so childish. I'm Lara Jean my life sucks because people THINK I'm a slut.
This story really begins when John Ambrose Mclaren gets her letter (FINALLY) and  they start to penpal each other. The plot of the first book was slightly far-fetched this one just seemed like grasping for a story.
Aside from that we get all the things we loved about the first book maybe slightly less.
Lara Jean is the same as always. She has a slightly self destructive streak. Her life is going fairly good and she finds a way to mess it up either by over thinking something or just being clueless Lara jean. At some point Lara jean gets more annoying than quirky and I think I mentioned this in my review of book #1. She is petty and a bit inconsiderate. This plus peter himself being slightly d**ckish= A whole load of unnecessary arguments and drama.
Like I said in my last review I think the secondary characters take the spotlight in this book. I loved how they were each their own person. They each brought their own thing to the story and kept it moving along. THEY made this book different from all other books in this genre and we get to learn more about them where as in the first book we didn't get all the details. Little Kitty turns 10! Gimme a hug … you guys are awesome!
The Dynamic of this book is so different. Josh is over the Song girls it seems.Although he does patch things up it will never be the same again. Lara jean and her family miss Margot of course but they seem to have adjusted and taken on their own share of the work. Again character development is a huge theme in these series as whole. Its all about change.
The Romance this time around  was slow and unmoving. It didn't really click for me. Why do you even like each other? Why are you together? These are the questions I had after the first book but it was okay then because it was the story of them getting together and warming up to each other. In this book however I wanted answers. When I started to understand why they liked each other they were supposedly at the point of love. There was also a messy love square that was rushed into the end. John ambrose was like an unnecessary pit stop to get a to a conclusion everyone else already knew.I wanted a cute romance Jenny Han … where's my cute romance.
There were a lot of pointless moments and arguments that left my head spinning. The writing isn't the best the pace of the book was perfect at the start and then slightly rushed at the end. Like cramming.The plot was just … urghh.
I just wanted more from Jenny Han. Maybe I was asking too much.
I did like this book..  there are some things that didn't sit well with me.The book is cute. It gets a bit tiring close to the end but when I finished the book  I immediately couldn't wait for the next. Maybe it's because of that PRACTICALLY a cliff hanger because it wasn't the amazing plot or the wonderfully wonderful way Jenny han wrote that made me NEED a third book. But 2017 better be here soon.
Deuces,
  B
We miss you already! Find us here.
Twitter | Goodreads | Instagram