We were tagged by Cassiopeia's moon ❤ Thank you. I don't know who created the tag but if someone could let me know that'd be awesome!
---
How long have you been a blogger?
We've been blogging since the 18th of July 2016. I think … yeah 😉  I will be honest I tried to start in January but it didn't last long and then I decide to start one  with my sister. We started a whole new blog. Although it seems she is rarely active ( exam year ) but she is good for advice and she will be back soon 🙂 Promise.
At what point do you think you will stop?
When reading feels like a job. If I get stressed and it's not fun anymore that's when I 'll stop. But I'm here now 😉
What is the best part?
I love the community ❤

What is the worst part?
Comparing your blog to others and never feeling good enough 😦 Your blogs are all so great!! XD
How long does it take you to find/create pictures to use?
Hmmm…. I make all my featured images. And it doesn't take long at all 😉 Don't worry I get sleep ( every now and then).
Who's your book crush?
urghhh … I can't say. Too many and if I just mention one I'll be betraying the rest
What author would you like to have on your blog?
It would be a dream come true  if J.K Rowling could… but the thought is making me sad cause it'll never happen and I want it so bad.
What do you wear when you write your blog?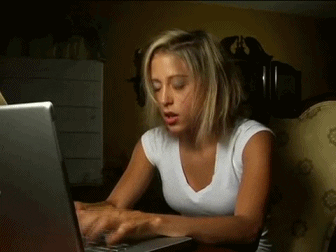 Huh… Usually P.Js because I write at night mostly. Probably why my posts aren't always.. coherent.
How long does it take you to prepare a post?
It depends. I sometimes get  posts written and published in an hour. Most days it takes longer.
How do  you feel about the book blogger community/culture?
refer to my answer to question 3 🙂
What do you think one should do to have a successful blog?
Sit down and write and then publish whatever it is you wrote. Then learn from your mistakes and bam! your a successful blogger. Only you can say what success is though. XD I'm cheesy.
---
I Tag
l
Can you relate? Tell us in the comments.
That's all … bye for now:)
Deuces,
B